We've yet to meet another wardrobe staple as classic and versatile as the crisp, white t-shirt. The outfit possibilities are endless, from laid back to dressed up, you can match a white tee with pretty much anything for a quickly pulled together look. To prove it, we're showing you 7 different ways to style the classic white T-shirt, whether you're looking for a new way to wear your favorite white Tshirt for the weekend, the office, or anywhere in between.
Here are the list of 7 ways to wear a solid white tshirt, we haven't added the Regular outfit combination for an example We are already familiar with combination of solid white t shirt and dark jeans,We have also added some layers to outfit as you know Layering is an art. And the white tee should be the canvas, So here we are presenting some stylist way to wear simple white tshirt and look fashionable.
1. Tucked In White T shirt & Trousers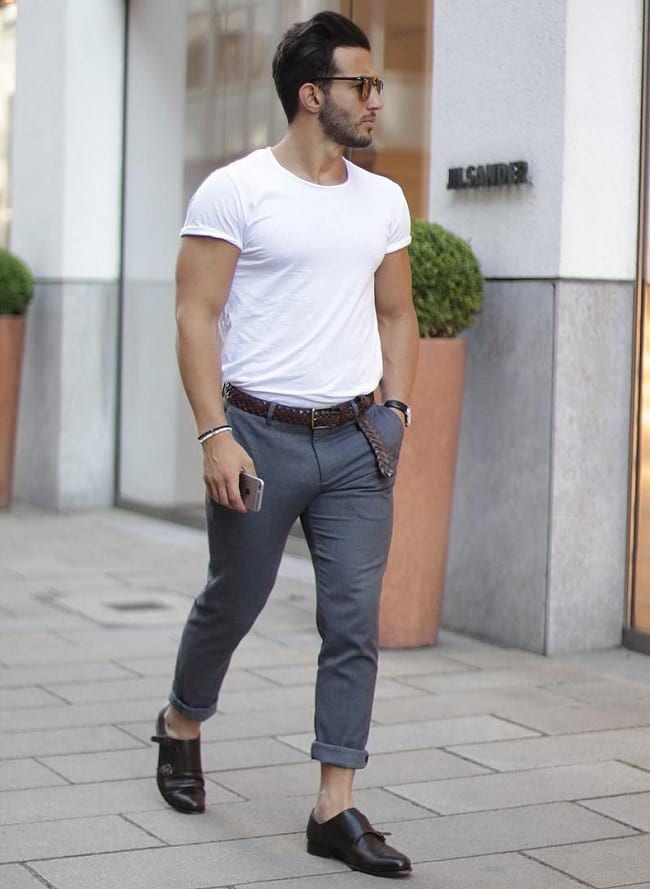 2.White T shirt & Open Shirt & Dark Jeans
3. White T Shirt & Leather Jacket
4. White Tshirt & Blazer
5. White Tshirt & Denim Jacket & Contrast Jeans
6. White Tshirt + Black Hoodie + Black Jogger
7. White Tshirt + Denim Shorts
For more of a street wear inspired get up, a hoodie, tee, jogger and chunky trainer look is the way to go. Keep things tonal with both navy up top and below, and match the socks with the T-shirt for a synchronized feel.
You could go for a pattern or logo hoodie showing allegiance to your chosen brand or sports team.
We hope you like this article, do comment below how do you style with your white t shirt? in case if you don't have any click here to buy the Men's solid white t shirt.

Visit our website : https://meltmoon.com

Thank you.